Assalamualaikum,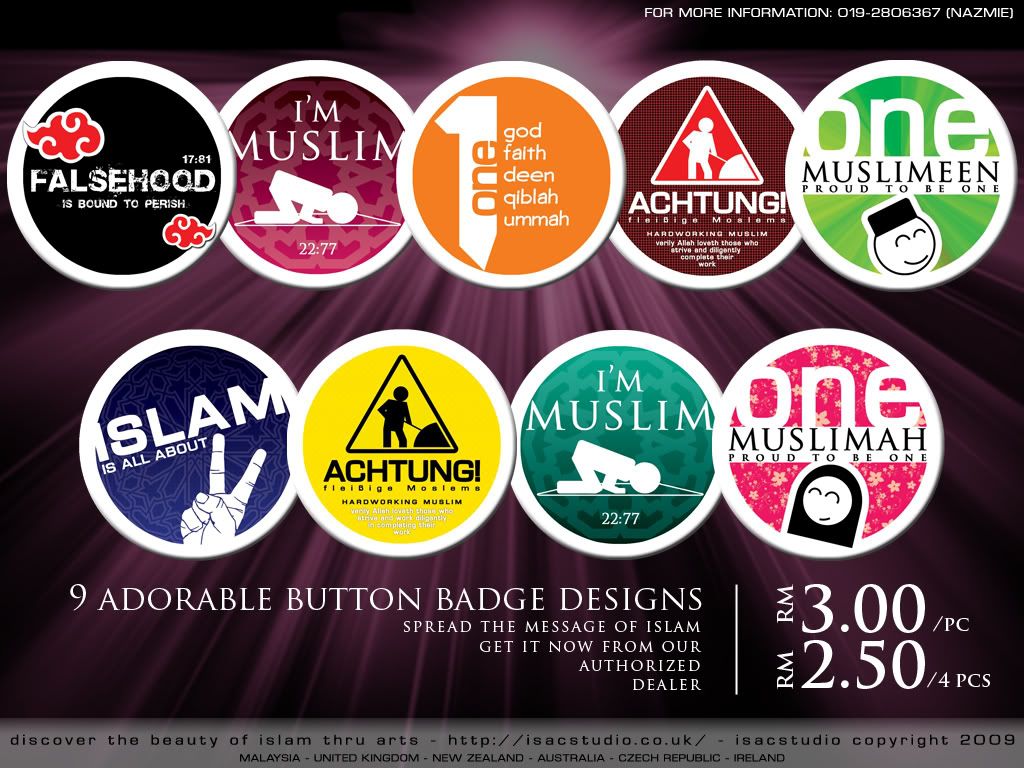 Sila Klik pada gambar tuk gambar besar
Kepada sesiapa yang berminat untuk membeli/ menempah Islamic Button Badge keluaran ISAC studio, pls drop a comment dengan menyertakan pilihan
badge
dan jumlah (unit) yang ingin di tempah.
FALSEHOOD - Is Bound To Perish

ONE MUSLIMEEN - Proud To Be One

ISLAM - Is All About

ONE - God , Faith, Deen, Qiblah, Ummah

ONE MUSLIMAH - Proud To Be One

I'M MUSLIM - 22:77 (Hijau cair, Hijau pekat)

I'M MUSLIM - 22:77 (Pink,Hitam)

ACHTUNG - Fleissige Moslem (Coklat)

ACHTUNG -Fleissige Moslem (Kuning)



+++++++++++++++++++++++++++++++++++


BADGE SUDAH MULA DIJUAL~

Setiap badge hanya
tinggal
48 unit sahaja,
JADI SIAPA CEPAT DIA DAPAT..
HARGA BADGE
Dapatkan
BUTTON BADGE
islamik dengan harga berpatutan di pasaran! Hanya
RM 3.00

SETIAP SATU
Pakej istimewa!!



RM 10

: UNTUK

4 Badges





Jadi, TUNGGU APA LAGI?? REBUTLAH PELUANG KEEMASAN INI~



Wakil-wakil
PENGEDAR
Sila dapatkan button badge melalui wakil-wakil kami.
Saudara NAZMIE - 019-2806367
Saudari NAJIBAH - 012-2099670

Saudara NABIL - 012 - 2601675



Berdakwah kerana ALLAH..
DO support ISLAMIC PRODUC TS~ :)
Syukran jazilan, Wasalam..

ISAC STUDIO~ http://isacstudio.co.uk/about-us/
-------------------------------------------------------------------------------------------------
"Boleh jadi kamu membenci sesuatu padahal ia amat baik bagimu, dan boleh jadi juga kamu menyukai sesuatu, padahal ia amat buruk bagimu. Allah mengetahui sedang kamu tidak mengetahui"...