Tadi mase ana tengah godeh2 Yahoo Deutchland tertibe ana terbace satu artikel ni pasal seorang perempuan yang kononnyer 'lelaki' sedang mengandungkan anak ke 2 dan kini tengah dok mengire tarikh kelahiran anak dia tu...
Der Transsexuelle Thomas Beatie, der im Juni als erster "Mann" der Welt eine Tochter zur Welt brachte, ist zum zweiten Mal schwanger. Beatie sagte der Star-
TV
-Moderatorin Barbara Walters im Fernsehsender ABC, er habe seine jahrelange Behandlung mit männlichen Testosteron-Hormonen nicht fortgesetzt, weil seine Frau Nancy und er sich ein weiteres Kind wünschten. Das errechnete Geburtsdatum für das zweite Kind solle der 12. Juni 2009 sein. Unklar war zunächst, ob sich der 34-Jährige erneut künstlich befruchten ließ.
Beaties Frau Nancy kann nach einer operativen Entfernung ihrer Gebärmutter keine Kinder bekommen. Die Nachricht von dem "schwangeren Mann" hatte im Frühjahr weltweit für Aufsehen gesorgt. Das Homosexuellen-Magazin "The Advocate" hatte im April Fotos von Beatie mit Bart und nacktem Schwangerschaftsbauch abgebildet.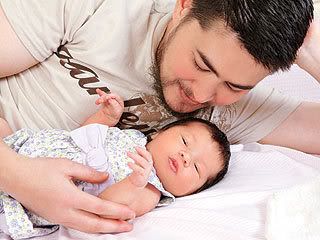 Der Transsexuelle wurde als Mädchen geboren und hieß zunächst Tracy. Anfangs lebte Beatie in einer lesbischen Beziehung mit Nancy. Beide heirateten 1993. 1998 unterzog sich Beatie erfolgreich einer Geschlechtsumwandlung, behielt jedoch Eierstöcke und Gebärmutter und unterzog sich keiner Operation für einen künstlichen Penis. Die mit Hilfe künstlicher Befruchtung gezeugte Tochter Susan wurde in einem Krankenhaus in Oregon ohne Kaiserschnitt geboren.
Thomas Beatie, also known as The Pregnant Man, has given birth to a girl, he confirms to PEOPLE exclusively. Beatie, 34, who began life as a woman and legally switched to a male identity, while preserving his female reproductive organs, and his wife Nancy, 46, welcomed a daughter at an Oregon hospital on June 29. Both Beatie and his daughter are healthy and doing well, he tells PEOPLE.


Pernahkah antum mendengar kisah tentang seorang perempuan ber'tukar' menjadi lelaki dengan menambah hormon lelaki ke dalam badannya dan menukar alat2 sulit dia?.. ish ish... xsanggup den..

erm.. ape lah nak jadik dengan dunia sekarang ni...NAUZUBILLAH minzallik..