Truly one of the most gorgeous stores I've ever seen. Amazing selection, style and packaging. Some of the most colorful and stylized chocys and sweets one can imagine; it's like a dream…just smack in the middle of the beautifully restored city center. Can order from abroad via their website.
Ever since its establishment in 1974, the Patchi brand has been synonymous with superior quality chocolate and exquisite chocolate designs. Only the finest imported raw material is used in the making of a Patchi piece of chocolate. This devotion to quality dictates that Patchi chocolates contain no preservatives, no artificial flavors, no vegetable oil, but only cocoa butter making its name the reference for fine chocolates.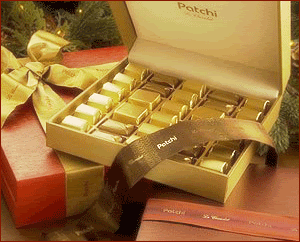 Patchi offers a wide variety of boxed chocolates, as well as a unique collection of hand wrapped and decorated chocolate lines -- called Expressions -- especially designed for those personal moments in gift giving. The Patchi menu includes dark and milk chocolates, plain or filled with pistachios, almonds, hazelnuts, giandua, or other delectable fillings.
Some of the choco I've tried:
HARMONIE
White choc filled with crisped rice and hazelnut pieces. Perfect for someone who has a sweet tooth and like to have something to chew on. But I'm not a fan of white choc so I'll pass.
MARQUISE
Milk Choc filled with gianduja, crisped rice, almond and hazelnut pieces.
FORTUNA
Dark choc stuffed with gianduja. Tastes similar to Marquise. Just simpler and smoother.
BISCUITINE
Milk choc filled with wafers. Tastes like your typical Loacker wafer biscuit.
PARFAIT
Dark choc filled with truffle fudge. Eating this is like having found an exquisite jewel box, and to discover a huge glistening gem inside.
BUT my ultimate Patchi indulgence would be:
ROYAL
Milk choc filled with gianduja and one whole hazelnut.

I'm eating it now while typing.
The choccie is excreamly (sheesus shrus, ze hazelnut cream ish so kao it hangles wis my hongue, I cant even pro-ounce it proherly!!), heavenly.
*Gianduja—Hazelnut cream. Sounds like drug, I know, haha..

I still remember, when i was in Sudan, my dad used to buy it.. when he went for outstation.. Just can't stop eating it.. hmm Nyummy~